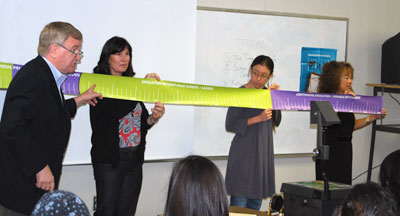 CHOICES is a well-crafted and interactive two-hour workshop that contains a simple, but important, message for the students: The decisions you make in high school, especially the decision to graduate in four years, will affect the rest of your life!
Developed in Seattle in 1985, this innovative program has spread to over 40 states and this year alone will reach approximately 140,000 students. Volunteer business and professional people are sent into classrooms and offer straight talk to young people about jobs that will be available to them (based on their educational achievement), goal-setting, time and money management, factors influencing their lives, and the consequences of the decisions they will make over the next four years.
One characteristic is stressed repeatedly: the key to success in anything they do is self-discipline.
In Sonoma County alone, approximately 25% of our high school students are not graduating on time. 81% of Caucasian students and 64% of Hispanic students are graduating from high school within four years. Some who drop out may get their GED later, but many do not. They are faced with a life of limited opportunities and all too often require significant support by society.
There is an answer: it's this extraordinarily successful program called CHOICES. In fact, it was so successful the past three years that we were asked to bring the CHOICES message back to ninth graders in 2012-13 as well.
CHOICES has no hidden agendas, but simply encourages kids to think very carefully about the importance of graduating on time. Students are shown that being a high school graduate and getting further education or training will increase the number of opportunities available to them, have a positive effect on their career, and enhance their level of fulfillment over a lifetime.